The Fight For a Fair Election in Georgia Rages On
Fri 16 Nov, 2018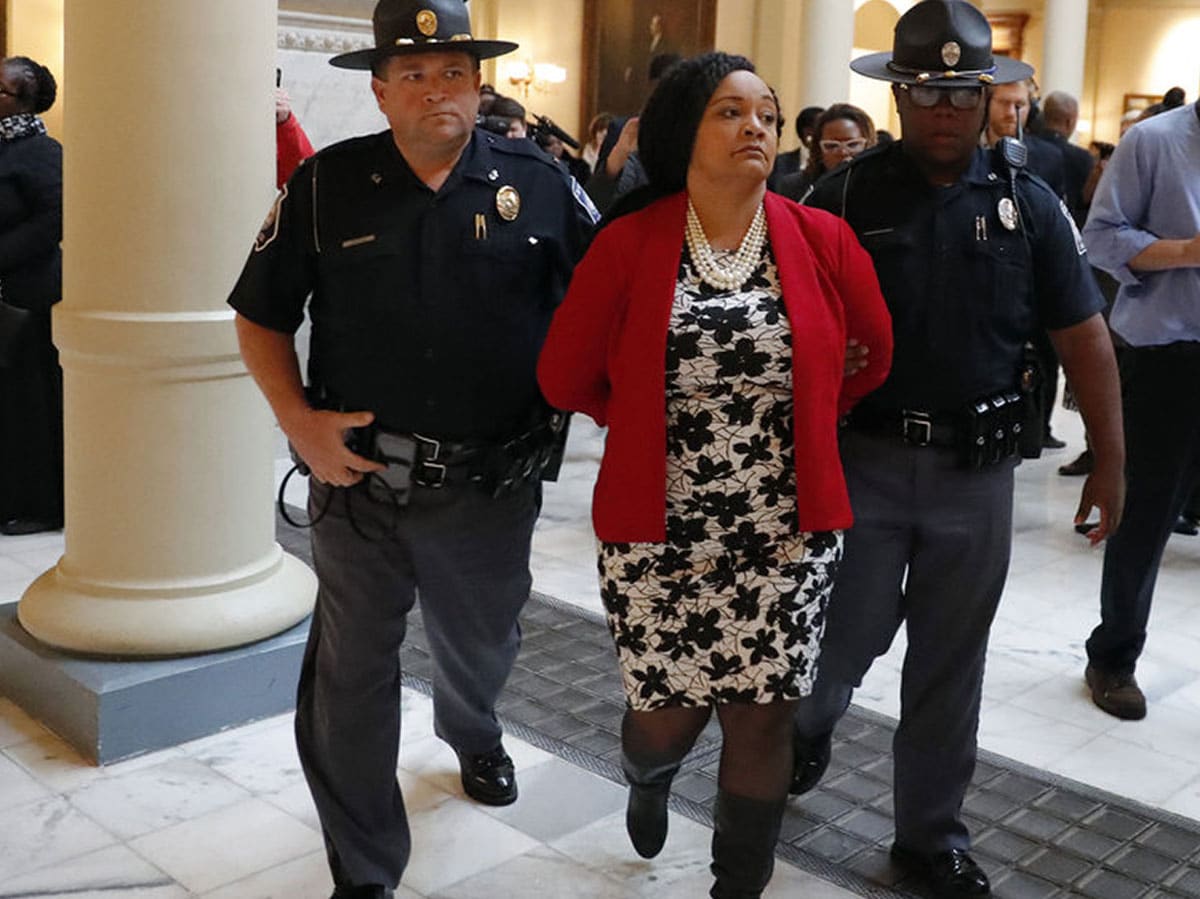 The race for governor in Georgia is a modern day minstrel show that continues to shine a light on the blatant racists politics that the Treasonous Republican Party (TRP) embraces — even flaunts — like a modern day Third Reich.
Though Republican Brian Kemp declared victory over Democrat Stacey Abrams last week, a string of recent court rulings has called for Georgia to count votes that the state previously rejected, further extending the contest and narrowing the margin Abrams needs to trigger an official recount or runoff.
On Wednesday, November 14, 2018, US District Judge Steve Jones ruled that Georgia counties can't certify election results until they count absentee ballots that were rejected for things like missing or incorrect birthdates.
Brian Kemp, who was caught on tape expressing concern about all Georgians exercising their right to vote (listen to it here*) used his official position as Secretary of State to help his campaign by purging voter rolls and reducing voting access in African-American communities.
* https://www.rollingstone.com/politics/politics-news/brian-kemp-leaked-audio-georgia-voting-745711/
Specifically Kemp:
Removed 1.5 million registered voters' names from those rolls.
Instituted an "exact match" system that canceled voter registrations that did not have the exact same spelling for names as they appear in other government databases. That system kept 53,000 voters, 70 percent of them African-American, from being able to register.
Closed over 200 polling places since 2012 and wanted to close more, especially ones in heavily African-American neighborhoods, but was prevented by a court order.
Newly combined polling locations did not receive extra voting machines for Election Day, leading to waits of more than four hours at some sites.
On Tuesday November 13, 2018 Georgia State Sen. Nikema Williams (D-Atlanta) was arrested in the rotunda at the state Capitol building in Atlanta. She was there with 15 other protestors in an effort to make sure all the ballots from last week's gubernatorial election are counted.
Williams was singled out for arrest because she is a black female senator.
One of Williams' white male colleagues, state Rep. David Dreyer (D-Atlanta), went to the same protest with Williams for the same reason and was not arrested.
He stood outside the jail after her arrest and spoke out about Williams' unfair treatment by Capitol police.
Dreyer said: "For some reason, I saw Capitol police lined up three abreast, row after row after row, looking like they were trying to stop a riot, when we were standing up for people's right to vote. So this is not democracy; this looks a lot more like an authoritarian government. And it seems like that's happening a lot these days, doesn't it?"
Sens. Cory Booker of New Jersey and Brian Schatz of Hawaii are asking the Justice Department to investigate "potential voting rights abuses" in Georgia and Rep.
Steve Cohen (D-Tenn.) said "Voting rights will return to being a high priority for Congress in the session that gets under way in January… particular attention will be given to widespread allegations of vote suppression in places like Georgia, Tennessee, North Dakota and elsewhere."
Although thousands of uncounted votes could tip the Georgia governor's race into a Dec. 4 runoff, the TRP is by no means done trying to steal the Georgia Election outright.
Keep your eye on Georgia Team Griffin. It ain't over yet.
E.G.
Resources:
http://time.com/5455179/georgia-brian-kemp-voter-suppression-recount-republicans-trump/